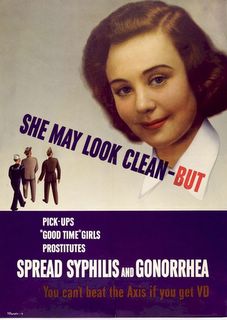 Do you think she looks clean? Superblog!! thinks she looks like a filthy whore.

I've been meaning to do a larger entry on this for a week or so but it looks like that's not going to happen so I'll just point to this blog post, where the lovely and talented Milo George walks us through an archive of propaganda posters.

The rest of this entry is a bunch of other crap I wanted to blog about at length, but didn't.

ITEM! Jesus Christ, this is taking a joke far:


Sunday, March 27, 2005
mmmmmnegh
nggnugh

Friday, March 25, 2005
nnnnguh
AHHHHHHH WAAAAAAAA
Etcetera, etcetera...
ITEM! The Sunday Mail reports on an
attempted alien invasion
:
ARMED police sprang into action after spotting A DALEK outside Parliament.
Worried the tin-plated terror was about to 'Exterminate' the Government, they quickly trained their machine guns on the invader. But the man behind the suit - Dr Who fan Ken Meikle, 46 - was able to convince them his Dalek's cannon fired nothing more deadly than water.
The Daleks
are something out of popular science fiction TV series
Doctor Who
.
ITEM! Over a Thousand Facts About
the Sahara Desert
!
ITEM! Let's point and laugh at
stupid Americans
:
Only about a third of Americans believe that Charles Darwin's theory of evolution is a scientific theory that has been well supported by the evidence, while just as many say that it is just one of many theories and has not been supported by the evidence. The rest say they don't know enough to say. Forty-five percent of Americans also believe that God created human beings pretty much in their present form about 10,000 years ago. A third of Americans are biblical literalists who believe that the Bible is the actual word of God and is to be taken literally, word for word.
And there's no need to click the link unless you're a "Gallup Poll On Demand" subscriber, because, asshole that I am, I quoted the part I could access in its entirety. You can get a
free 30-day registration
, but that's cheating. Why didn't I just find a better link? Because you should shut up now, that's why!
Superblog!!
will return at some later point in time, hopefully more sober. I mean less.