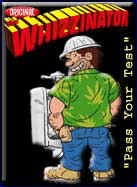 To sum up the days events here at Superblog!! let's check out the Whizzinator! Actor Tom Sizemore (Black Hawk Down, Pearl Harbor, etc) used this revolutionary product when he tried to pass a drug-test. You might say that he got caught with his pants down.. (I know, not FUN FUN FUN!!, but still...)

Prosecutors said Sizemore, 43, had failed court-imposed drug testing seven times this month alone, despite living in a drug treatment center. In one case, he was caught trying to use a prosthetic penis sewn into his boxer shorts and filled with a clean urine sample to fake the results.

Let's forget about the meth-head Sizemore and move over to the prosthetic penis; the Whizzinator! How does it work and how cool is it to walk around with a strap-on for several hours ?

As you can see, the elastic straps are adjustable. Any excess length can be taken up by going once around the belt before fastening. Try positioning the belt so that the end of the prosthesis hangs to the end of your own penis. That will make it much easier to find. Our clip valve, which releases the urine can make a slight snap sound when it is opened. Try disguising the sound by clearing your throat or coughing as you open it. To operate The Whizzinator, hold the prosthesis with one hand and pinch it just behind the head to prevent any flow as you open the clip valve with your other hand. Then, take the sample cup, relax the pinch and Whiz. This operation will approximate the natural way that you would urinate into a cup. Remember, practice makes perfect.

Yeah, all of that sounds like the truth to me and most likely, all of these testimonials are for real !!

I have to test while being observed, and not only was it undetectable, but I passed with flying colors. This product is AMAZING!! Thanks again!!
Robin B, VA

Wow this product is great. I passed my drug test like that! you guys are so awesome. because of you, im not in jail..ty
BALLS, MI

Balls, huh... A real man uses his own penis. That's what the Bible says. Anyway, if you buy a whizzinator or two, remember to read the fine print.

The Whizzinator is to be used in accordance with all Federal, State and Local laws. The Whizzinator is not a medical device.