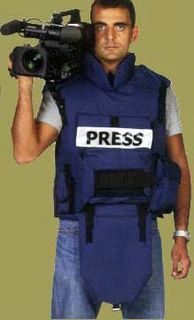 It's a once in a lifetime opportunity! Gear up for some action blogging. Superblog!! launces a joint venture operation with israelmilitary.com!!

PRESS BULLET PROOF
$650.00
LEVEL 3A
Bullet proof protection vest especially made to the needs of the PRESS.Full round protection including neck and groin with press signs and pouches.
Comes in Blue color only.

Now you can blog from war zones without being afraid of angry jihadists aiming for your balls!!