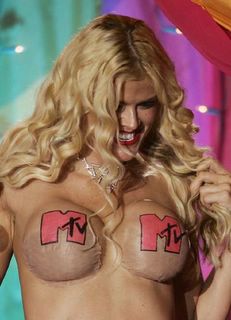 In accordance with the mission of Superblog!! Anna Nicole Smith!

When you need her the most she's like all good women. Or maybe like Batman…? When gloom and doom fills our hearts she's there to lift our spirits! Eventually she's stripping for her own good too since she recently was denied the $88.5 million inheritance money.

A federal appeals court declined to rehear the case and reconsider a ruling disinheriting former Playboy model Anna Nicole Smith by passing her late husbands estate to his son. According to the decision of a three-judge panel of the 9th U.S. Circuit Court of Appeals, E. Pierce Marshall, son of oilman J. Howard Marshall, was his only heir who was entitled to $88.5 million from the oilmagnats assets.


And stripping was what she did at the inaugural Australian MTV Music Awards.
While presenting an award onstage, Smith pulled down her dress to reveal both breasts, each covered with the MTV logo. Smith had previously caused a stir at last year's American Music Awards, appearing visibly drunk and slurring ''Do you like my body?'' while introducing Kanye West.

Superblog!! Constantly bringing sexy foodaholics to the public eye.