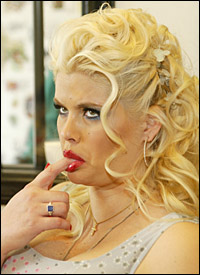 This is also starting to be boring, right? All life forms in the known universe have already seen her hooters by now but as we all know Superblog!! is a boob-fixated blog and we must report about it (again) I guess.
Over to our man at MSNBC:

The merry widow and diet-pill plugger startled the crowd at Nashville's Grand Ole Opry by flashing the audience.
"She was on stage dancing with some cloggers when she broke loose from her partner and did her own thing," one stunned ticket-holder told The Scoop. "She was shimmying around, shaking her breasts, and lifted up her skirt in a sort of square-dance-can-can move and gave the audience a view of her panties. And then she did some sort of crazy dance where turned around and stuck her butt out at the audience and lifted her skirt. At one point, her boob popped out."

At one point, her boob popped out.... That's the most poetic sentence ever written! Mark my words. You'll never ever in your pathetic life read a sentence of such poetic magnitude again. I also enjoy to read about eyes popping out and bowel and intestines problems. And yes, since we usually try to mix food and sex here at Superblog!! here's a great meatball recipe.