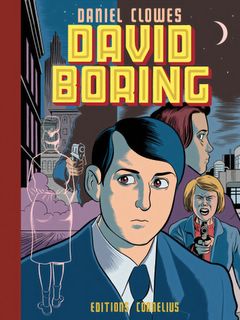 So it has come to this... A Boring post… Boring, boring, boring. Zzzzzzzz…

Meet David Boring: a nineteen-year-old security guard with a tortured inner life and an obsessive nature. When he meets the girl of his dreams, things begin to go awry: what seems too good to be true apparently is. And what seems truest in Boring's life is that, given the right set of circumstances (in this case, an orgiastic cascade of vengeance, humiliation and murder) the primal nature of humankind will come inexorably to the fore.

Ok. That was the boring part. Now over to my interesting evening. When I'm done blogging I will fucking RUN to my living room to enjoy a home cinema experience. I have this old but not so crappy projector. Works great with porn and football. (Soccer!!!)

On my watch list tonight: Lost, episode 19.

Locke begins to suffer physical difficulties as he and Boone try to find a way into the snatch. Jack is reluctant to offer assistance when Sawyer begins to experience excruciating headaches.

After that it's time for: Be Cool, starring the mind job John Travolta

This stunningly inept movie is an early contender for worst film of 2005.
Eleanor Ringel Gillespie, ATLANTA JOURNAL-CONSTITUTION

Yep, that will work ! Movie snacks include:Chocolate and water.
There ! I made it! I blogged like a regular blogger! Will never do that again, that's for sure.