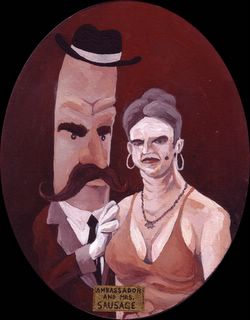 Throwing food rules! Throwing frozen food rules even more and the king of all food throwing must be throwing frozen sausages! Why, you might ask? Because that's how you inflict the greatest pain!
Sausage throwing - The new blood sport !!

A motorist is recovering today after his nose was broken when a frozen sausage was thrown through the open window of his car, ambulance service officials said.The 46-year-old man was driving near his home in South Woodham Ferrers, Essex, when the "bizarre incident" occurred, said a spokesman for the Essex Ambulance Service."He was driving his car when the offending item came through his open window and hit him on the nose," said the spokesman.

Haha! I'm gonna buy millions of sausages and there will be a lot of bizarre incidents in Sweden tonight.