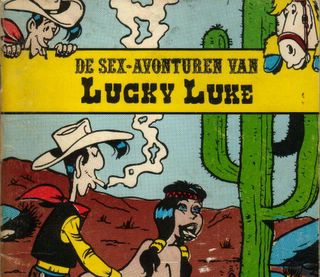 Courtesy of Superblog!! fan Moocko, here's a 40-page comic about Lucky Luke engaging in sexual intercourse. WARNING: I think it's in Dutch.

I guess you could say this is in the grand tradition of so-called "Tijuana Bibles":

Tijuana Bibles were pornographic tracts popular in America before the advent of mass-market full-color glossy wank-fodder such as Playboy. A typical bible consisted of eight stapled comic-strip frames portraying characters and celebrities (eg. John Dillinger, Popeye, Disney characters) in wildly sodomistic situations. Many could be considered grossly racist, sexist, and otherwise wholly "politically incorrect." Browser discretion is advised.

Check it out. It's Art.

By the way, did you notice that I discreetly cropped the image above? That's because Superblog!! is a family blog.