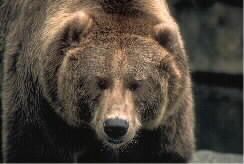 Congratulations, Scott McCloud Vs. A Bear! You are Superblog!!'s Site of the Day for the day of November 14th, 1998.

If this wondrous site has a flaw (you'll notice I'm saying if), it's that anyone can vote as many times as he wants to. I myself voted 16 times, 9 times for the bear and 7 times for McCloud. This is likely to render the result dubious in some people's eyes.

As always, Superblog!! is much too busy to create an award pic for the winners to paste upon their sites, so instead we urge them to use anyone of these.