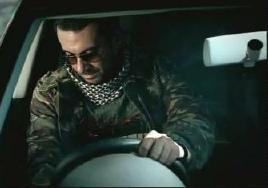 Something that looks like a TV commercial for VW Polo featuring a suicide bomber is now circulating on the internet. Also circulating are the speculations about its origins. Is it for real or is it a viral ad? The good folks at snopes.com shows the clip and tries to sort it out:

So just who produced this offensive spot? The ad doesn't appear to be a spoof put together by some rogue amateur filmmakers, as its production values (e.g., shot on 35mm film, probably at a cost in the tens of thousands of dollars) would indicate. Paul Buckett, a Volkswagen spokesman, has denied that the automobile manufacturer had anything to do with it: [...] We were horrified. This is not something we would consider using: it is in incredibly bad taste to depict suicide bombers. It gives the impression we've condoned or supported it, and is potentially very damaging to Volkswagen. Our legal department is planning an action . . .'

Well, watch it and decide. Is it bad taste or is it fun? This time I'm voting for both. The real judge though - is YOU !