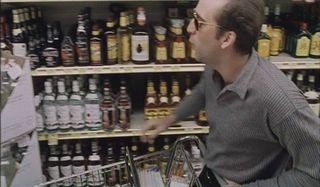 The unforgettable Ben Sanderson played by Nicholas Cage in Leaving Las Vegas works just fine as the illustration for todays boozing rules. That's what I thought before i found out that..............too many bloggers are already linking stuff from Modern Drunkard Magazine. I even did it myself.... once but never again!!!! If you are a serious drinker and wants to show your house guests your level of sophistication I suggest that you pre-order this book about boozing.

The Perfect Buzz : The Essential Guide to Boozing, Bars, and Bad Behavior
The Perfect Buzz is guaranteed to make you the life and soul of any bar or party -- from mixology and the delicate art of scoring to drinking games and bar etiquette.

You never know, it can be a good investment, but keep in mind that you can always ask your question about boozing here at Superblog!! And if you really, really are a serious drinker you don't need a stupid book to teach you anything.