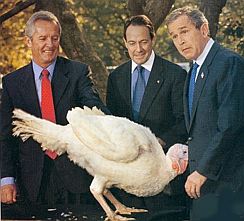 Okay, so maybe that's not news.

Here's some random thoughts on blogs, media bias, Michael Moore, and GWB. This was originally supposed to be published as a series of articles in the New York Times, but they tried to censor me, so I thought, "Why not run it in Superblog!! instead?"

I consider extremely partisan sites and blogs, like some of the ones my co-blogger recommends, to be fairly useless as news sources. Personally, I prefer to get my news from sites that at least strive for objectivity, instead of taking a blinkered view of reality on purpose. Even then, though, I don't automatically trust everything they report. Because the media ("mainstream media" as well as "the blogosphere") shouldn't be trusted. Everyone has an agenda.

But that doesn't mean that there isn't a vast difference between, say, CNN and FOX News. Some media outlets can be trusted more than others. Conservatives like to answer the frequent criticism that FOX News is extremely right-wing with the charge that "CNN is left-wing". It's not, though. It's very far from left-wing. Regardless of its missteps, CNN at least tries to achieve some kind of balance (and they have erred on the right-wing side just as often as on the left-wing). Only an idiot would say that CNN is comparable to FOX News. One reports news, the other is pretty much propaganda. Both have a very pro-American perspective - naturally. If you can't see that, you leave me no choice but to mentally place you in the same category I reserve for Creationists and other Muppets.

And let's talk Michael Moore. While I disagree with Moore on a lot of things, if I have to choose between Moore himself and the legions of frothing Moore-haters, Mike's my guy any day of the week (I don't mean that in a homosexual sense... OR DO I? Just kidding). Thankfully, I don't have to make that choice, as it's quite easy to avoid both pro- and anti-Moore sites.

Moderate Conservatives tend to equate Moore-haters with Bush-bashers. While the groups' tactics can be very similar, there's a crucial difference between Michael Moore and George W Bush. Michael Moore is not the President of the United States. Although Moore is very famous (especially for a documentary filmmaker) and admired (especially outside the US), he is not in any way on an equal footing with Bush II. Michael Moore does not run a nation of 300 million people, of which a sizable number are fundamentalist nutjobs. (To be fair, a sizable number are of course not.)

If the media shouldn't be automatically trusted, that goes double for the President. I think it's the duty of citizens to question their leaders, regardless of which party they happen to represent. Anyone who is in the White House should be given a hard time. (Certainly Bill Clinton was, even though his "crimes" pale in comparison to Dubya's.)

Having said that, this particular President is different from most. Not only does he have a horrible track record, he actually thinks he was told by God to run for President. That's insane. Don't you feel safe at night knowing that the person in charge of the most powerful country on Earth, let alone over 10,000 nuclear weapons, is in direct communication with the Lord?

I know I do.