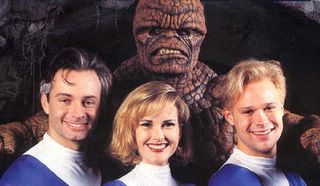 Okay, so I haven't seen this movie myself, but my uncle Sammy has, on some crappy pirate transfer with a part of the picture obscured. He tried to get me to watch it too, but it's against my principles to watch illegally downloaded movies unless the picture quality is decent.

Anyway, he says the film's kind of watchable and gets three Michael Keatons. That's not incredibly informative so I want to supplement it by pointing you in the direction of Tom Spurgeon's "Ten Observations About the Fantastic Four Movie", of which this is a sample:


7. I was very fond of Dr. Doom's plans to get rid of the Fantastic Four, which got increasingly sketchy as he worked his way down the list, like he got tired or he started watching something good on TV:

The Thing -- Befriend him during a long meal playing on his loneliness and apparent stupidity, steal use of Richards' device to change him back while at the same time powering me up. Important: Fail to destroy machine afterwards.

Mr. Fantastic -- Assault, kidnap, hook up to elaborate torture device. Make wisecracks. Mince.

Human Torch -- Fire a missile at his ass.

Invisible Girl -- Bag of flour? Improvise.
Hey, as if that wasn't enough, here's some
bonus commentary
by Sammy in the original Swedish:
the thing eller vad han heter....hans latexdräkt vägde 30kg
intressant...
What does it mean? You'll never guess! By the way, the pic above is from the
suppressed 1994 adaptation
by Roger Corman.